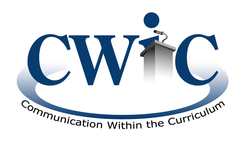 Communication Within the Curriculum
CWiC Emerging Scholar Talk 2021
Through the Emerging Scholar Talk (EST) competition, CWiC celebrates both strong research projects and solid speaking abilities by providing students with a public forum in which to talk about their academic work. Emerging Scholars may present any type of research in any field that they have conducted independently at Penn. 
The undergraduate winner of the EST competition is coached by a team of CWiC advisors (undergraduates highly trained in public speaking and peer coaching) during the semester. At the end of the semester, the winner prepares a 15-20 minute virtual presentation and participates in a synchronous Q&A session open to Penn students, faculty and staff as well as friends and family at the end of the spring semester.
This year CWiC is excited to present the work of Arnav Lal (EST 2020 winner) and Adam Goudjil (EST 2021 winner).  Please enjoy their talks and join us on Friday, April 23 at 3PM EDT for a live Q&A session with both scholars.
Zoom Meeting ID: 980 4186 0960
Passcode: CWiC2021
Details
Start Time: April 23 2021 - 3:00 PM
End Time: April 23 2021 - 5:00 PM